I have some very small (2.6x 2.6x 0.6cm / 1 x 1 x 0.2 inches) GPS modules for sale. The modules are with the Skytraq Venus 5 chipset which feature high accuracy, fast position lock and low current draw. Integrated patch antenna. Easy to interface to a uC, supply voltage is 3.3V. After application of supply voltage the module sends out position data in NMEA0183 format. Update rate is 1Hz. Weight 8 grams / 0.3oz.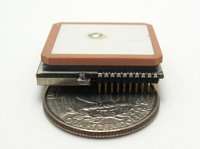 Datasheet:
http://www.mr-lee-ca...traq-st01sp.pdf
Skytraq Binary Messages:
http://www.mr-lee-ca...skytraq_AN0003_
...
SkyTraq Control Center (Windows):
http://www.mr-lee-ca...PS_Software.zip
NMEA Reference:
http://www.mr-lee-ca...ence_Manual.pdf
The modules are new, price is: 30 USD, shipping is 3 USD flat (worldwide from USA)
Edited by jperth, 22 August 2008 - 08:06 AM.